Language Label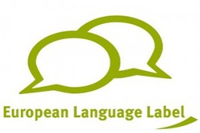 The project ELMEGO (Greek for Immigrant Parents) has been awarded with the European Language Label 2012. This is award which encourages initiatives regarding language teaching and learning and support innovative practices and methods. More information about the European Language Label you can find here.
The ELMEGO project was funded by sources of University of Thessaly. More details about the project can be found here.
Photographs from the ELMEGO project are located here and from the award ceremony here.